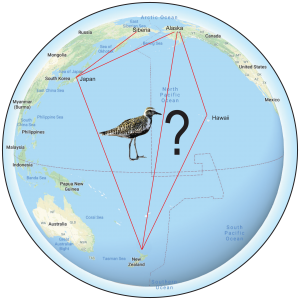 Pacific Golden Plovers are the fourth most common Arctic migrants to visit New Zealand for our summer. But their numbers are falling fast. In the first 10 years of census counts, in 1960-69, an average of just over 46 a year was recorded in the Firth of Thames annually. In the latest 10 year period the average was just 18.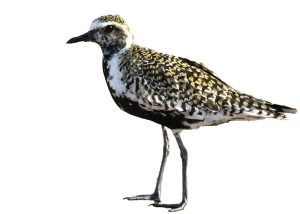 But we don't know why. We suspect that, as with many other birds, the problem lies somewhere along their flyway path. But we don't know where they come from or what route they follow.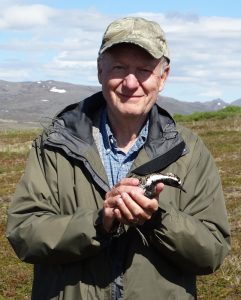 This summer PMNT is going to find out. The Trust has teamed up with the leading expert on PGPs, Wally Johnson of Montana State University (shown holding a PGP in Alaska), and together we are going to catch 10 PGPs as they roost at the Findlay Reserve in late February and fit them with the latest tiny satellite tags.
In late March, when they fly north to their nesting sites, the satellite system will let us follow them. Next September, when they return to New Zealand, we will watch what route they take to get here. You can watch them with us because as soon the satellite tags report in we will put the information on this map.
What route will they follow? Will they, like birds from Saipan, fly via Japan to Siberia? Could they, like birds from Samoa and Fiji, fly to Alaska via Japan? Might they go to Alaska by way of Hawaii which is a major centre for PGPs? And will they fly directly back to New Zealand? Join us as we find out.
Want to know more about Pacific Golden Plovers? We will keep you updates on the project and our efforts here so keep checking in.
PROJECT UPDATES
The project has received grants towards the cost of buying 10 satellite tags from:
$5000 from the Ron and Edna Greenwood Environmental Trust
$4600 from the Birds NZ Project assistance Fund

$5000 from the Mazda Foundation

Members of PMNT have offered to contribute $7500 towards the cost with a particularly generous donation from John C Black and Jeanne Kleyne of Washington State, USA.
Brigham Young University – Hawaii, whose staff and students will be coming here to participate in the project, has kindly agreed to cover the costs of the satellite tracking and, in effect, to underwrite the cost of buying the tags should that be necessary.
As a result the order for 10 GPS PinPoint tags from Sirtrack is now being placed.
The first small flock of Pacific Golden Plovers for the season has arrived and can often be seen feeding in front of the Godwit Hide or hiding in the grass at the southern end of the beach.
A team of volunteers has started recording the birds' movements to help plan the campaign to catch them in February.
Record number of golden birds – an article about the record breaking past summer season and the questions we still have about them
Would you like to help us by volunteering to keep track of the birds at high tide or in creating video of the project? Fill in this form and we will get you involved.
Where do our Pacific Golden Plovers go? Copy