The Firth of Thames is a shallow embayment extending north from the Hauraki Plains. Across the bay to the east lie the volcanic ridges of the Coromandel Peninsula.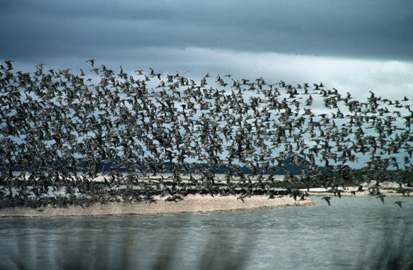 Below the bush clad Hunua Ranges on the western side of the bay, a narrow coastal plain comprised entirely of shell ridges, or cheniers, separated by in filled mud has built up over the last 4500 years.
This is considered to be one of the best examples of an active shell chenier plain anywhere in the world. A few hundred metres in front of the Shorebird Centre, the most recent ridge forms the present coastline. To the south it becomes a spit which, at high tide, is usually covered with roosting shorebirds.
The presence of so many shells is an indicator of just why those birds are here. The estimated 8500 of intertidal flats on the Firth are rich in benthic fauna, or shorebird food. This is rich habitat where godwits and knots, stilts and oystercatchers, dotterels and wrybill can forage for molluscs, gastropods, crustaceans and polychaete worms. Once the incoming tide covers the flats, the birds flock to good roost sites on the adjacent shell banks. These spectacular high tide roosts offer excellent viewing to visitors and are easily accessible from the Shorebird Centre.