Pukorokoro Miranda Naturalists' Trust's engagement with China, South Korea, North Korea and the East Asian-Australasian Flyway:
1979 – 2018
Migratory shorebirds have been a key focus for the Pukorokoro Miranda Naturalists' Trust (PMNT) since its foundation in 1975. It was the large flocks gathered on high tide roosts around the Firth of Thames that first attracted the attention of ornithologists such as R.B. Sibson in the late 1940s. Sibson and others, recognising the importance of the site, encouraged the forming of the PMNT with the purpose of eventually establishing an observatory at Pukorokoro Miranda. Since opening in 1990, the Pukorokoro Miranda Shorebird Centre has gained recognition as a primary source of information and expertise regarding shorebirds, their habitats and coastal ecology in general.
From the late 1980s, in conjunction with similar work in Australia, shorebird banding under the auspices of PMNT began to reveal the east coast of Asia as a major migration route for birds from New Zealand. We now know that for dozens of migratory waterbird populations in the Asia-Pacific region, the Yellow Sea is the lynchpin of their migration strategies. Staging or refuelling sites are essential for ensuring successful migration flights. They allow birds to replenish fuel reserves used after departure from New Zealand, and to arrive on their Arctic breeding grounds with reserves of fat. Such surpluses are essential upon arrival on the tundra where annually variable climate conditions such as snow cover may create initial periods where food is scarce. It also means birds are well placed to commence breeding as soon as conditions allow.
Recognition of the critical ecological values of the Yellow Sea region along with other shorebird areas within the Asia-Pacific region, led to establishment of the East Asian-Australasian Shorebird Site Network (EAASSN) in 1996. A partnership of governments and community groups, the Network aimed to ensure appropriate recognition and protection for key sites for migratory waterbirds. PMNT has been engaged with the Network, and its successor – the East Asian-Australasian Flyway Partnership (EAAFP), and with other groups in the region, since the early 1990s.
To date some of our activity has been funded by the Pukorokoro Miranda Naturalists' Trust, but the bulk of funding has come from individual members. In 2006 we received a small grant from the Waikato conservancy of DOC. It is worth noting that some funding for early activity by PMNT in the Flyway came from the Australian government. We consider our work in China and Korea has helped meet New Zealand's obligations under international treaties such as the Ramsar Convention, and the Bonn Convention on Migratory Species. Consequently, the current engagement of the New Zealand government through the EAAFP is warmly welcomed.
Below is an account of our involvement to date. 
1979
A small group known as the 'Miranda Banders' led by Dick Veitch began shorebird banding at Pukorokoro Miranda. Red knots banded in 1980 were subsequently recovered on Sakhalin Island, the Sea of Okhotsk, West Papua and Australia, confirming New Zealand links with Asia.
1986
In 1986 Adrian Riegen and Stephen Davies took over banding activities, and in 1993 formed the New Zealand Wader Study Group (NZWSG). As more band recoveries from Asia were recorded and more staging sites were discovered, Riegen was in regular contact with researchers in other countries. Many early reports came from Australian-based Mark Barter, who had been surveying the Chinese coast for some years.
1993
At a Japan–Australia Migratory Bird Agreement (JAMBA) meeting in Tokyo in November 1993 attended by Doug Watkins and Karen Weaver from the Australian Department of Environment and Heritage, it was agreed to raise the issue of migratory waterbirds at the December Conference of Parties (CoP) Contracting to Ramsar at Kushiro, Japan. Until this stage two NGOs – the Australasian Wader Studies Group (AWSG) and the Asian Wetland Bureau (AWB), both of which had been monitoring shorebirds in Australia and East Asia since the early 1980s, had been unable to get governments working on a cooperative flyway agenda. At Kushiro it was agreed that a workshop should be held, also at Kushiro, in December 1994 to discuss the issues and develop the Asia – Pacific Migratory Waterbird Strategy and Action Plans.
1994
The Kushiro Shorebird Workshop in December 1994 was attended by government and NGO groups from all but one of the 22 countries and territories on what was to become known as the East Asian-Australasian Flyway (EAAF). New Zealand was the only flyway country not represented at government level, PMNT Council member Adrian Riegen being our sole representative. A plan to form a network of shorebird reserves sites was launched at the meeting, and Doug Watkins (Wetlands International, Canberra) was appointed Flyway officer to oversee the identification and nomination of sites.
1996
A conference hosted by the AWSG in conjunction with the Ramsar CoP in Brisbane in 1996, ratified the EAASN. It was to be modelled on the lines of the Western Hemisphere Shorebird Reserve Network (WHSRN) in North and South America. Sites were to be selected using the Ramsar Convention on Wetlands criteria: that they regularly support 20,000+ birds, or a minimum 1% of a total flyway population. Sites were to be jointly managed by government agencies and local community groups. New Zealand signed up to the Shorebird Site Network (SSN) and designated two Ramsar sites – Farewell Spit and the Firth of Thames for the network. Adrian Riegen and Keith Woodley represented PMNT at the meeting.
1997
The Hon Nick Smith, Minister of Conservation launched the Firth of Thames site on 16 March 1997 with the Pukorokoro Miranda Naturalists' Trust as the local community group partner.
1999
In April Riegen spent three weeks with a Queensland Wader Study Group expedition to the Gulf of Carpentaria in northern Queensland, monitoring and counting shorebirds migrating north. The region was thought to be a refuelling site for red knots from New Zealand during northward migration and some banded birds from New Zealand were seen.
2000
Assisted by a grant from Cathay Pacific, in May 2000 Riegen joined Mark Barter at Yalu Jiang National Nature Reserve (YJNNR) in northeast China for the second shorebird survey of the reserve. (The first had been done in 1999 by Barter and Jim Wilson – also from Australia.) Barter had been systematically working his way round the Yellow Sea and Bohai Bay surveying for shorebirds. For many sites this was the first time they had been surveyed.
Riegen and Woodley attended a further meeting in Australia in 2000 to develop the Site Network. Woodley and Bruce Postill (DOC) later attended a Site Managers meeting in Victoria.
2002
Funded by Environment Australia, Riegen joined Barter in China again to investigate 100km of the Bohai Bay's southern coast previously un-surveyed for shorebirds. At the same time Riegen was looking for ways to establish a role for the PMNT in Asia, realising that protecting shorebirds in New Zealand was of little value if they were hunted and their habitats destroyed in Asia. At the same time a shorebird banding training workshop was help at Yalu Jiang run by David Melville from New Zealand and Pete Collins from Australia.
2003
Chen Kelin, director of Wetlands International – China Programme visited New Zealand with a group of nature reserve managers from China as guests of PMNT. They were interested in seeing New Zealand reserves and the style of management. Issues of how to help educate people and raise public awareness of shorebirds in China were canvassed and it was agreed that the first step would be to form a sister-site partnership with a Network site in China. Yalu Jiang was an obvious choice for several reasons.
Surveys and banding data showed godwits from New Zealand were being seen at Yalu Jiang and vice versa.
Yalu Jiang National Nature Reserve staff members were very keen to participate in flyway activities.
Access to the site was good, an important consideration if regular work was to be undertaken and for raising the profile of shorebirds with local people.
2004
A memorandum of understanding was drawn up between the PMNT and the YJNNR to promote joint projects, education, staff training and further surveys of shorebirds in the reserve. In April 2004 five PMNT members lead by Chairman David Lawrie travelled to Yalu Jiang to undertake another full survey of the reserve. A different week to previous visits during the migration period was targeted. Following this a formal signing ceremony was held with high-ranking local and state government officials and YJNNR staff. The ceremony made the national TV news in China and was taken very seriously by the Chinese who saw this partnership as a valuable joint venture and major step towards expanding their understanding of migratory shorebirds.
The Pukorokoro Miranda delegation was funded jointly by PMNT and individual delegation members.
2005
The vice-mayor of Dandong who had been at the signing ceremony was invited by PMNT to visit New Zealand with a delegation from Dandong and Yalu Jiang. In March 2005 they spent a week at Miranda, visiting sites in the greater Auckland region. The culmination of the trip was to assist with wrybill banding. Reluctant at first, the vice-mayor eventually joined in and ended up banding several birds. This was very clearly a significant event for him because he was observed recounting it to people on the seawall at Yalu Jiang the following year. A few weeks later the Mayor of Dandong was in New Zealand with a trade delegation and asked to visit Pukorokoro Miranda. This was arranged for the first day of their visit and once again he left with a greater understanding of migratory shorebirds and a pledge to do more at Yalu Jiang for them.
Three PMNT members Riegen, Dick Veitch and David Melville joined a US Geological Survey team to the bar-tailed godwit breeding grounds of the Yukon-Kuskokwim Delta in western Alaska to catch bar-tailed godwits as part of the satellite-tracking project. Weather conditions and uncooperative birds at the time conspired to thwart the attempt.
2006
Training of the YJNNR staff was seen as vital and in early 2006 two managers arrived at Pukorokoro Miranda, one from Yalu Jiang and the other from Wetland International – China, for an extended stay to learn about site management, educating the public and surveying shorebirds. Two further managers arrived in March for the same purpose.
In April 2006 Riegen, Woodley and two other PMNT council members visited Yalu Jiang to undertake another survey a week earlier that the previous visit, and to conduct a training workshop for staff from other Chinese nature reserves. The visit was a great success and it was very encouraging to see the developing enthusiasm among them. Advice offered to the YJNNR staff in 2000 about possible developments had been adopted with an area close to the city of Donggang set up as a reserve with secure roost sites for the birds along with a just completed visitors centre. Bird hides to seat hundreds of people had been erected. Three hundred guests attended the official opening in April 2006, during which everyone received a close-range view of 30,000 bar-tailed godwits. Once again, members of the Pukorokoro Miranda delegation funded themselves to China.
Riegen and Woodley then travelled to South Korea to assist with the inaugural survey of the three-year Saemangeum Shorebird Monitoring Project (SSMP). This joint project of two NGOs – Birds Korea and the Australasian Wader Studies Group – aimed to document how shorebird populations were negatively impacted by the massive 41,000 ha reclamation project at Saemangeum on the central west coast of South Korea. Baseline data on bird numbers and movements through the migration period were gathered and monitoring was to continue until 2008.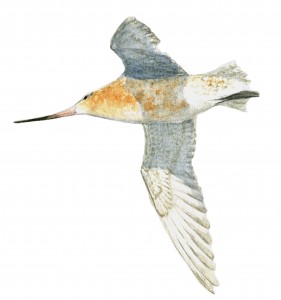 2007
A five-member PMNT delegation returned to Yalu Jiang in April to continue the work. Once again shorebird surveys, school visits and public awareness functions were the main activities. It was now evident that our regular visits had made a considerable difference in how shorebirds and their habitat needs were perceived in this region of China.
Riegen, Woodley and Nigel Millius then returned to South Korea for the second year of the SSMP. The impacts of the reclamation one year after completion of the seawall at Saemangeum were already starkly obvious. At one site in April 2006, 70,000 great knots were observed in one flock: at the same location exactly one year later barely 600 were present.
In February 2007 researchers from the US Geological Survey in Alaska, Point Reyes Bird Observatory, and Massey University joined PMNT members at Pukorokoro Miranda to implant satellite transmitters (PTTs) in bar-tailed godwits. This was partly as a consequence of failing to catch godwits in Alaska in 2005. Subsequent results confirmed birds were not only making direct, nonstop flights from New Zealand to the Yellow Sea, but were returning from Alaska in one 11,000-12,000 km flight. Inevitably the project generated worldwide media publicity.
2008
Two successive PMNT delegations returned to Yalu Jiang, where they participated in further shorebird surveys, a bird-banding training programme, initiated a pilot benthic studies programme, and visited schools. Commencing studies of the benthic communities in the Yalu Jiang intertidal zone was a significant development, something that had hardly been done anywhere previously in the Yellow Sea.  Understanding the value of the site to shorebirds was vital following the colossal loss at Saemangeum. Once the single most important shorebird site in the Yellow Sea, the destruction of Saemangeum saw that distinction passed to Yalu Jiang. Working with schools is also a high priority for the PMNT and one particular school showed considerable interest.
Pūkorokoro Miranda members also travelled to South Korea to assist with the third and final SSMP survey. In addition a comprehensive count of shorebirds was made along the entire west and south coast of Korea which, together with counts at non-breeding sites in northwest Australia over the next two austral summers, confirmed that over 50,000 great knot (22 per cent of the population) had been lost since completion of the Saemangeum seawall in 2006.
In October 2008 PMNT Council member Estella Lee represented the Trust at the 10tth Conference of Parties to the Ramsar Convention in Changwon, South Korea.
April to June, Woodley spent 11 weeks on the Yukon-Kuskokwim Delta in Alaska completing  research for a book  on godwits.
2009
Prior to his visit to Pyongyang in 2007, PMNT approached then Foreign Affairs Minister, Rt. Hon Winston Peters asking him to raise with North Korean officials the issue of migratory shorebirds.   As a direct result of that initiative, on 26 April 2009, Riegen, Lawrie and Tony Habraken travelled to the DPRK. In the absence of any previous data, their survey of Mundok Reserve provided the first shorebird information from North Korea. Among birds counted were 2,400 bar-tailed godwits including individually marked birds from North and South Island, New Zealand, three regions of Australia, Chongming Dao on the Yangtze Delta, and Barrow, Alaska.
The survey in the DPRK followed on from another survey and educational trip to Yalu Jiang held a week earlier involving several people from PMNT.
In October Woodley's book Godwits: long-haul champions was published by Penguin NZ.
2010
A five-member PMNT delegation returned to Yalu Jiang in April, where a six-day survey of the reserve recorded over 176,000 birds, 84,000 of them bar–tailed godwits. The delegation assisted with running a Ramsar-sponsored shorebird identification and counting workshop at the Reserve, attended by staff from reserves elsewhere along the Chinese coast. A workshop sponsored by Wetlands International was held in Donggang, where Estella Lee gave a presentation in Chinese on behalf of PMNT.
In October Woodley addressed a symposium on migratory waterbirds, organised by the Korean National Parks Service at Mokpo, South Korea.
In December Lawrie represented PMNT at the 5th Meeting of Partners of the EAAFP, at Siem Reap, Cambodia.
2011
During its involvement with the flyway, PMNT has sought any opportunity to raise the profile of migratory shorebirds. Any way of developing and fostering links with other regions in the flyway was of interest to us. One such opportunity came through links with education authorities in Busan, South Korea. In 2009 we hosted a delegation from Busan Education Department who were here to explore ways of forming partnerships between schools in the two countries. PMNT subsequently met with teachers from local schools who were enthusiastic about the project. This initiative bore fruit in February 2011 with the arrival of students and teachers from two schools in Busan to participate in joint activities with two local schools, Parawai in Thames, and Birkdale Intermediate in Auckland.
2012
Woodley represented PMNT at the 6th Meeting of Partners of the EAAFP at Palembang, Indonesia, where he briefed partners on PMNT aspirations to continue shorebird survey work in North Korea. That the New Zealand government was directly represented at a Meeting of Partners for the first time was a welcome development.
Riegen joined Queensland's Peter Driscoll in September for a five-day aerial survey along 400+km of the Gulf of Carpentaria coastline in a light plane as a reconnaissance for a major expedition planned for 2013.
 2013
In March and April, Riegen, Woodley and Kristelle Wi from Pūkorokoro Miranda were in the Gulf of Carpentaria on the first expedition to the region since 1999. More New Zealand red knots were seen but not as many as expected. The count work undertaken helped cement recognition of the Gulf of Carpentaria as the third most important shorebird site in Australia. Riegen then continued down the Queensland, NSW and Victorian coasts looking for and finding more marked birds from New Zealand.
In May a delegation from the State Forestry Administration and Provincial Forestry departments in China visited the Shorebird Centre for a workshop on shorebirds and community involvement in conservation.
In June Lawrie represented PMNT at the 7th meeting of Partners of the EAAFP, in Alaska, where the grave situation for Red Knots on the northern coast of Bohai Bay in China was emphasised. Red Knot are New Zealand's second most numerous Arctic shorebird and use this part of the Yellow Sea as their major staging site
In November Woodley participated in a workshop on the Development and Operation of Wetland Education Centres, in Seosan, South Korea. The primary outcome of the workshop was a comprehensive manual on developing wetland education centres, applicable worldwide. It was published online in May 2014.
In December, Woodley participated in a workshop hosted by WWF Hong Kong, to develop an Action Plan for Shorebirds in the flyway. The overriding theme emerging from the workshop was that time was running out for a number of shorebird populations dependent upon stopover sites in the Yellow Sea. The Action Plan was due to be presented to the governments of China and South Korea in 2014.
Also in December the Shorebird Centre hosted a visit by a delegation from the DPRK in association with the DPRK-New Zealand Friendship Society.
2014
In 2011 New Zealand joined the EAAFP, with DOC appointed the government agency with responsibility for the Partnership. For PMNT this was an enormous development that bore fruit in 2014 when a joint DOC-PMNT delegation travelled to Yalu Jiang, funded by the Ministry of Foreign Affairs and Trade under the Seriously Asia programme. One major objective of the visit was to launch a report based on 10 years of shorebird count data from the Yalu Jiang reserve. Compiled by Adrian Riegen, Gillian Vaughan and Ken Rogers, in association with colleagues in China, the report showed Yalu Jiang to be the most important shorebird staging site in the entire East Asian-Australasian Flyway. The launch ceremony at Donggang on 4 May was attended by Carl Worker, New Zealand Ambassador to China, and Pan Shuang, Vice-Mayor of the city of Dandong. The delegation held talks with officials from a number of Chinese agencies in Beijing, including the State Forestry Administration and the Ministry for Environmental Protection.
The delegation then travelled to Pyongyang, DPRK where they met with officials from the Nature Conservation Union of Korea (NCUK). PMNT and NCUK signed an agreement to work jointly for shorebird conservation in the two countries, including a five-year programme of shorebird surveys in the DPRK to begin in 2015.
The delegation made a one-day visit to the Luannan coast of Bohai Bay where they met with the Global Flyway Network (GFN) team, and investigated the issues relating to Red Knot.  Riegen returned a week later for several days to help the GNF team scan for marked birds from Australia and New Zealand.
2015
In January David Lawrie represented PMNT at the 8th Meeting of Partners of the EAAFP at Kushiro in Japan.
In March, the Chinese Ambassador to New Zealand Mr Wang Lutong visited Pūkorokoro Miranda accompanied by DOC Director General Lou Sanson. The ambassador was briefed on our engagement with the Flyway, our partnership with YJNNR and also on the serious decline of the Red Knot populations in the Flyway. He was particularly interested to learn of the critically important stopover site for knots on the Luannan Coast of Bohai Bay, as he comes from Hebei Province.
In April Riegen, Woodley and PMNT Council member Estella Lee returned to YJNNR. Activities included a partial survey of the reserve, a school visit and participation in a bird festival.
They then travelled to Beijing where they met with New Zealand Ambassador John Mackinnon to brief him on migratory shorebird issues.
Riegen and Woodley, joined by PMNT member David Melville then travelled to Pyongyang to commence the four year programme of shorebird surveys in DPRK. A 50 km section of coast northwest of Nampo was investigated, during which over 20,000 shorebirds were recorded, including 2000 Bar-tailed Godwits. Birds banded in northern Australia, China and Alaska were recorded. No New Zealand bands or flags were seen but this was not unexpected as by early May 'our' birds would have already departed for their breeding grounds in Alaska. Discussions with NCUK officials resulted in plans for next year to include investigating benthic life on the intertidal flats (i.e. what are the birds eating?) and school visits.
In October Ambassador Wang returned to Pūkorokoro Miranda accompanied by then Conservation Minister Maggie Barry. It was clear that since his visit in March he had been actively engaged in addressing the red knot issue, pointing out that a provincial level reserve had been proposed for the area surrounding the knot stopover site in Bohai.
In November Riegen accompanied a delegation to China led by Lou Sanson. A series of high level meetings were held with central government officials in Beijing.  The delegation met with the State Forestry Administration, State Oceanic Administration, and the Ministry for Environmental Protection.  There were also discussions with the provincial government of Hebei Province. The main purpose of the visit was to engage with the different authorities and look for ways to protect the key 7km of Luannan coast on the Bohai that is vital for Red Knots. The meetings were all very positive and timely, as all departments are now having to include environment protection planning in their new 5 year plans.  There is increasing optimism that real conservation outcomes for migratory shorebirds in China can be achieved. A welcome development on this occasion was that local iwi Ngati Paoa were represented in the New Zealand delegation.
 2016
 In January PMSC hosted a delegation of management and technical staff from Yalu Jiang.
In March PMSC hosted a ceremony at which Vice-Minister of the China State Forestry Administration Chen Feng Xue and DOC Director General Lou Sanson signed a Memorandum of Agreement to work towards protection of shorebirds and their habitats.
In mid-April Riegen, Woodley, Melville and Bruce Postill returned to DPRK and surveyed a section of coast north of the 2015 survey site. This included a return to Mundok, the reserve visited by the team in 2009. Three further sites of international importance were found.
2017
In January Lawrie represented PMNT at the ninth meeting of Partners in Singapore.
In April Riegen, and Melville were joined by Nigel Millius and Wendy Hare for this year's expedition. A section of coast northwest of Mundok was surveyed and 38,000 shorebirds counted. Three additional sites classified as internationally important were located. In addition a banding training session was held in which 6 birds were caught with mist nets and banded. This was a first for our DPRK colleagues.
In early May Riegen accompanied the New Zealand Ambassador to Beijing on a visit to the Luannan Coast Red Knot site. Accompanied by a significant number of Chinese officials, this was a highly successful profile-raising event, with the ambassador later describing it as his best day in China.
There are several indications that increasing recognition of the importance of the Yellow Sea region for shorebirds is occurring in China. In June 2017 the government of Hebei announced a coastal reserve would be created which encompasses the Luannan site. In early 2017 the Chinese government announced it was seeking World Heritage status for most of the major shorebird sites in the region. It is clear that the long term efforts of PMNT have contributed to this outcome.
In October NCUK staff spent 10 days on and around Sindo Island on the Chinese border where they investigated potential survey sites and logistics ahead of our proposed field season there in April 2018. It was proposed to conduct a simultaneous shorebird survey of the border region by two teams: one of PMNT and NCUK staff in NK and the other of PMNT members and Yalu Jiang staff in China.
2018
In April 2018, a larger PMNT team of Riegen, Melville, Woodley, Postill, Hare, Milius and Estella Lee returned to Dandong, this time accompanied by a TVNZ film crew. Riegen, Melville and Woodley together with the TV crew crossed over to Sinujiu, while the others remained in China. The DPRK team travelled to Sindo at the mouth of the Yalu, where they were the first ever foreigners to overnight on the island. They found significant areas of coastal wetland – tidal flats and reed beds largely unaffected by development – supporting large flocks of shorebirds. This was fascinating habitat that is almost completely gone from the rest of the Yellow Sea coast and is well worth preserving. It is believed this is what the Jiangsu coast of China would have looked like in the 1960s, as well as much of the Yellow Sea coast 100 years ago.  13,000 Bar-tailed Godwits, 3895 Far-eastern Curlews, and 2690 Eurasian Curlews were counted, making the site internationally important for all three species. With so much habitat lost elsewhere around the Yellow Sea, the coast of DPRK assumes critical importance as shorebird refugia.
Simultaneously the team in China counted the sites at the eastern end of the Yalu Jiang Reserve.
A program on our work in DPRK called Secret Stopover screened on TVNZ in May, to an audience of over 600,000. It continues to be talked about two years later.
In December Lawrie represented PMNT at the tenth meeting of Partners in Hainan, China.
2019
In April Riegen, Melville and Woodley returned to DPRK to complete the fifth of the five shorebird surveys outlined in the PMNT agreement with NCUK. The primary focus was to visit sites in South Hwanghae Province. Neither of the southern sites held internationally important numbers of shorebirds on the days they were visited. However, the nature of the overall area suggests it could well support internationally important numbers of birds. It is hoped to investigate this further on a future visit.  The team was able to revisit two sites in North Pyongan Province covered in the 2017 survey. This was two weeks later in the migration season than in 2017.  As expected, numbers of birds were down but still there were still significant numbers of Dunlin and Far Eastern Curlew.
The team was also able to visit and make presentations at two senior schools in Pyongyang.
2020
The intention was to return to DPRK in April to present the PMNT/NCUK report documenting the results of five years of surveys.  It was also planned to revisit the area in South Hwanghae Province, as well as return to Sindo, but the Covid-19 pandemic prevented this.
                                                    *************************
Since 2008 Riegen and other MNT members have assisted regularly in the catching of godwits and knots at Foxton Estuary in the Manawatu and Catlins Lake in Otago. This is part of a research project by Dr Phil Battley of Massey University who is using tiny geolocators attached to the legs of birds to track their movements. This work will continue for several more years.
Since the 1990s MNT members have been active in advocating for shorebirds and their habitats. This has included presentations at conferences and workshops both in New Zealand and overseas, as well as numerous talks to community groups throughout the country – from Te Hapua, on Parengarenga Harbour, to Invercargill, championing the flyway and shorebirds.
None of the work at Yalu Jiang would have happened without the input of the Pūkorokoro Miranda Naturalists' Trust (PMNT) and the willingness of everyone concerned at Yalu Jiang to make a difference.
The work undertaken in China by PMNT has been closely watched around China and is being held up as a model worth copying. It is very humbling that a small group of unpaid but passionate people from New Zealand can make such a difference in a country as big as China and all New Zealander's should be proud of this. Likewise, our involvement in South Korea was very much appreciated by the small NGO groups trying hard to make a difference there. Similarly, our work in DPRK has attracted much interest.  That the government of DPRK is seeking to have Sindo listed as a World Heritage Site is a particularly welcome outcome of our visit there.
Pūkorokoro Miranda Shorebird Centre
August 2020
Artwork by Keith Woodley