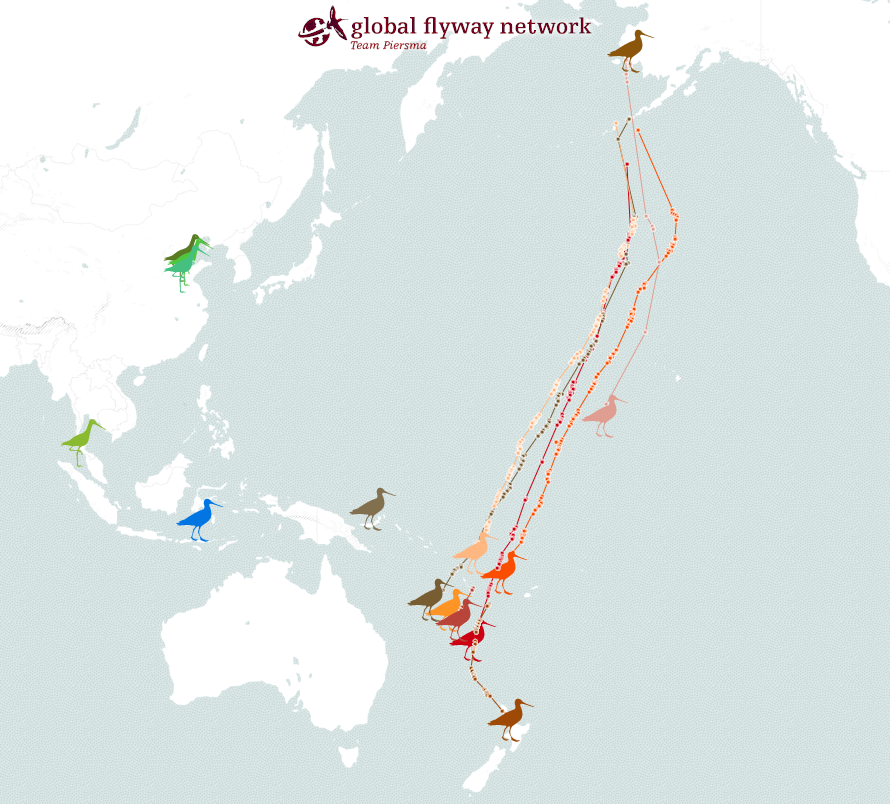 Much has happened in Aotearoa and across the globe since our Arctic migrants left us in March. Now we are excited to welcome them "home". The return of the godwits has been even more thrilling this season as the Global Flyway Network Project has made it possible to follow some birds as they make their way across the world.
Sixteen Bar-tailed Godwits with satellite transmitters set forth into the big blue yonder on their epic flights to Asia and on to Alaska. There was a flurry of interest as they spread out over the vast Alaskan tundra. After the breeding season was over we waited patiently for the ten who still had working transmitters to depart from Alaska on what is now well-known to be the longest, nonstop powered migratory flight of any land bird, as they set out to cross the vast, and to us, almost featureless Pacific.
Using goodness knows how many senses and cues they fly more than 11,000 km to New Zealand each year. Some are pushed off course by unhelpful winds, but most re-orientate themselves and make it back to New Zealand, usually to the very spot they left from.
A perfect example was 4BWWY – named for her colourful leg bands: Blue, White on the left leg, and White, Yellow on her right.
We watched 4BWWY being pushed towards New Caledonia and then Australia. Then, at a point 150km south of New Caledonia, she made a left turn and flew almost directly towards Cape Reinga. Within sight of land, she then flew back out to sea, down the west coast of Northland and turned into the Kaipara harbour. Instead of stopping, she turned again and flew over Auckland and back to the shell banks of Pūkorokoro Miranda, landing at 22:00 on Monday 21 September. She had flown 11,600km in about 230 hours non-stop! Now that's navigation par excellence.