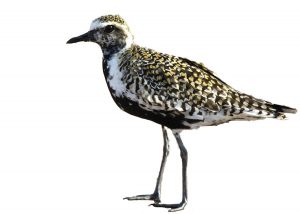 Goldie is our Pacific Golden Plover,the Kuriri, the fourth most common of the Arctic migrants that visit us each summer, and probably the most beautiful. But Goldie has a problem. The number of Pacific Golden Plovers arriving in New Zealand is falling fast. And unfortunately we don't know what to do about it because we don't know where they come from or how they get here. This summer the Shorebird Centre is going to try to find answers. We're going to catch 10 birds, fit them with tiny satellite tags and see where they go. Then, hopefully, we'll be able to work to stop their decline.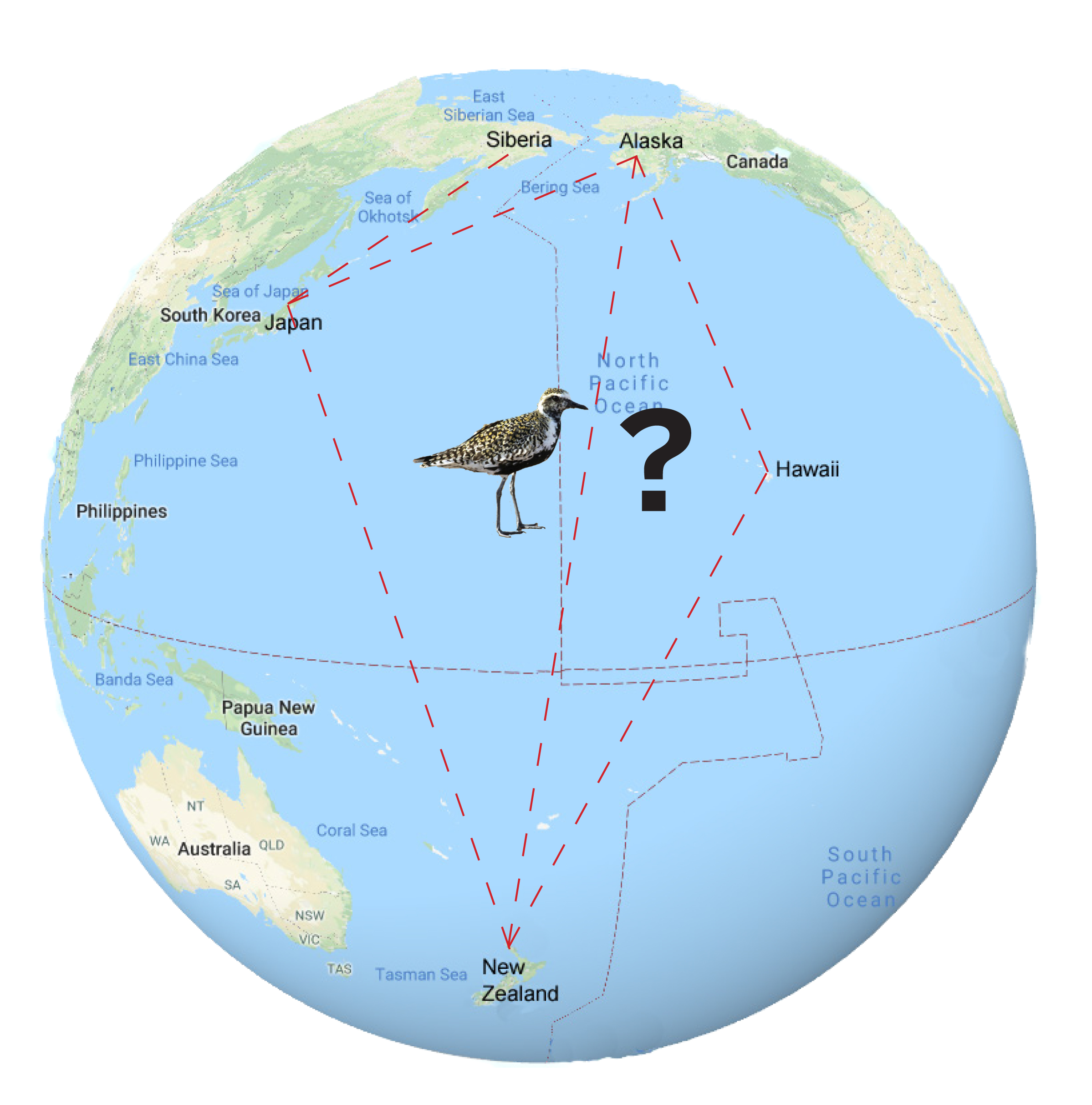 You can follow the progress of our campaign right here on this website. Right now, as we report below, we have a team of enthusiastic volunteers watching the Kuriri that have come here for summer so we can work out how and where to catch them In late February we'll report on how our team of experts gets on with the tricky business of catching enough birds to fit them with transmitters. And from late March-early April the information we get from the satellite tags on their 15,000km journey to their secret home in the Arctic will be plotted on this map so you can share with us the excitement of discovering where they stopover en route – maybe Japan – and where they nest – will they turn out to be Russians or Americans?
Later, if the satellite tags' batteries last long enough, we'll report on the route they take on the return flight to New Zealand. It's possible they may even fly here direct, 11,000km, which would be a remarkable feat for birds about the same size as a stocky Blackbird.
What's the latest news?
15TH MARCH 2019 – CATCHING EFFORTS OVER FOR THE SEASON
PMNT's intensive campaign to catch 10 Pacific Golden Plover – or Kuriri – to fit with satellite tags has come to a halt for now with three birds successfully processed and poised to head for their Arctic home under the watchful eyes of the Argos Satellite Network some time in the next 2-4 weeks.
Active preparations for this began six months ago with a team of volunteer observers, led by JoJo Doyle, recording the birds every movement they made after arriving back in New Zealand.
The catching began on 18 February with the arrival of the world expert on Pacific Golden Plover, Wally Johnson from Montana State University, and a team of expert plover netters from Brigham Young University Hawaii. They were joined by a team of New Zealand's most experienced banders led by Adrian Riegen.
The first day we didn't quite succeed in luring any Kuriri into the canon-net catching area on the Stilt Ponds though around 40 hovered on the edge until they were spooked by a young Kahu. But that night we set mist-nets at the Limeworks and caught two birds.
And that, for a long time, was that. Different canon netting sites were promising at times but the wary plovers stayed clear of the catching area. Mist-nets caught a few Wrybills, godwits and even swallows but no plovers.
Eventually the Americans had to go home. Wally, who has studied these birds for 40 years, expressed amazement at how wary our Kuriri are. Their behaviour is, he said, nothing like what he has found in the rest of the Pacific. To illustrate the point he showed us photos of one plover sitting on a man's arm and feeding from his hand, and another of a bird being caught by a net gun fired from a car while it was roosting on a traffic island in front of a shopping centre.
The New Zealand team kept going and eventually, on the very last night, caught a Kuriri in a mist-net at the Limeworks. The volunteers were willing to keep going but Adrian felt everyone was emotionally and physically exhausted and in need of a rest. In addition, he was reluctant to put the birds through the stress of being caught and tagged too close to their migration date.
The first bird caught, a small male, was named Jim after project co-ordinator Jim Eagles. The second was called JoJo after volunteer co-ordinator JoJo Doyle. The third was called Amanda after this season's summer shore guide Amanda Hunt who put a huge effort into find out about the birds. All three have been tagged, released and seen looking in good health.
Wally commented that he has noticed physical differences between birds from Siberia and those from Alaska and, based on those, Jim may come from Siberia and the two females from Alaska. So, as Jim commented, 'if we're extremely lucky and all our tagged birds complete the migratory cycle we should have some very interesting information from both sides of the Bering Strait.'
The remaining seven satellite tags will be kept alive, by recharging and re-setting them each month, and the catching will resume next summer using tactics which have been revised as a result of this year's experience and the data gathered by JoJo, Amanda and the other volunteers. The reports from the tags on Jim, JoJo and Amanda will be collected by Lee Tibbitts at the US Geological Survey, passed on to us and, as soon as the data has been analysed, the results will be posted on this website.
OUR DOCUMENTARY – JOHAN KOK AND WILD IMAGES
Johan Kok from Wild Images has very generously offered to help support our project by creating a documentary of the efforts. Below are the links to his videos. Thank you Johan!
DECEMBER 2018 : THE BIRDS ARE HERE
Right now there are around 60 Pacific Golden Plover at the Robert Findlay Wildlife Reserve adjacent to the Shorebird Centre. That's a good number because in the past 10 years the annual counts for the National Wader Census have recorded an average of 18 birds. (The photo below by Jim Eagles shows a few of them roosting out on the mudflats.) Having that many should make it easier to catch 10 strong, fit birds to carry out satellite tags.

If you've never seen a Kuriri now is a good time to do so. Come down to the Shorebird Centre a couple of hours either side of high tide and one of our Summer Shoreguides will usually be able to find a few to show you. If you'd like to take a peek at some of what they get up to, including feeding on worms and hiding in the undergrowth, you can watch this short video.
MONITORING THE BIRDS
We now have a team of volunteers, led by JoJo Doyle (she's on the right in the photo below along with Summer Shoreguide Amanda Hunt) who are watching the plovers and recording their movements. So far they've been spend a lot of time hanging out in their favourite place of previous years near the start of the boardwalk from the car park to the hides. They are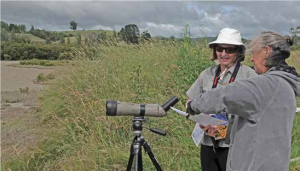 also regularly seen on the mudflats well out in front of the Godwit Hide and now and again they pop up near the mouth of the Pūkorokoro Stream. From time to time they've been visiting a couple of farm paddocks over the road and sometimes they just disappear. So there's plenty of work to do. If you'd like to join monitoring team please contact the Shorebird Centre.
WHAT ABOUT THE SATELLITE TAGS?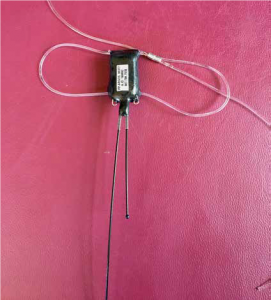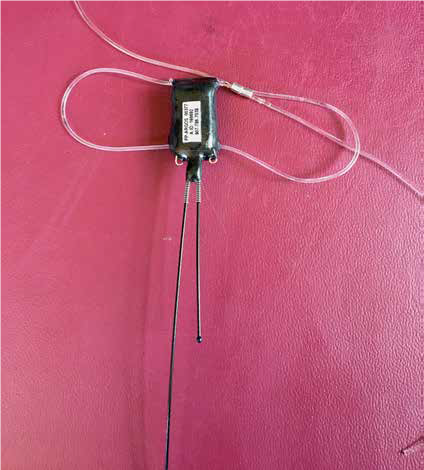 Lotek Wireless, a Canadian company, is currently making 10 PinPoint Argus Satellite tags for us (shown in the top photo). These are ultra lightweight tags which, including the harness used to attach them to the birds, weigh just 4g. This is only 2-3% of the body weight of the birds and Dr Wally Johnson, the world expert on Pacific Golden Plover (shown in the bottom photo checking out a bird after removing a tag), has fitted them to hundreds of plovers in the course of many years of research and recorded no ill effects.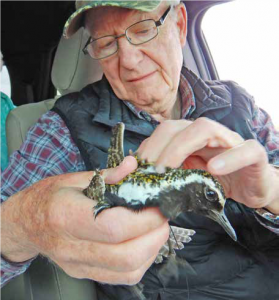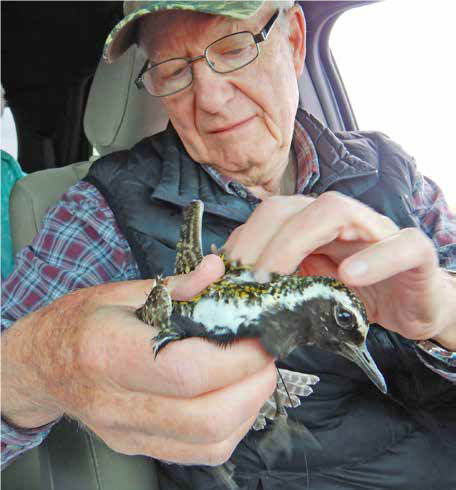 Research like this is very strictly controlled and before going ahead we had to get authority under the Wildlife Act from the Department of
Conservation and approval under the Animal Welfare Act, which was given by Massey University's Animal Ethics Committee. A lot of expertise went into designing the project and that was provided by Dr Johnson, a research scientist at Montana State University; New Zealand's leading shorebird academic, Associate Professor Phil Battley from Massey University; DOC biodiversity ranger for Hauraki Mailee Stanbury, Shorebird Centre Manager Keith Woodley and Banding Committee chair Adrian Riegen. When the tags have been made finished they will be sent to the Alaska Science Centre to be programmed by Lee Tibbits who did the same job for the famous Bar-tailed Godwit E7. During the Pacific Golden Plovers' migratory flights she will pass us the information as the satellite tags report their positions.
GETTING THE MESSAGE OUT
The Shorebird Centre is very keen to spread the message about this project. We're very excited about the prospect of discovering where these birds, which have been visiting us for thousands of years, actually come from. We're also very enthusiastic about finding out why their numbers have dropped in recent years and working to reverse that trend before it is too late. Almost all of our native shorebirds are threatened and we hope the story of the Kuriri will help persuade people that they are worth helping.
This web page, which has been designed by Council member Trudy Lane and maintained by Centre Assistant Chelsea Ralls, is part of the effort to tell people what is going on. In addition, Council members Ann and Ray Buckmaster report on this and other Shorebird Centre activities via our Facebook page. Wildlife filmmaker Johan Kok has volunteered to produce a documentary on the project and has already started videoing material. Shorebird Centre Educator Alex Eagles-Tully is using the Pacific Golden Plover story to get schools interested in shorebird education. As part of that project Alex has designed a paper Kuriri that anyone can colour in, cut out, glue together and hang from the ceiling. You can find the instructions for 'How to make your own paper PGP' here or you'll find it in our brand new Shorebird Activity Book. Right now the Centre is decorated not with Christmas lights but lots of brightly coloured Kuriri made by pupils of nearby Kaiaua School. We'd love to hang up any that you make too so send them in.
If you'd like to find out about these remarkable birds, ask us any questions or assist this project please contact us at:
Email | admin@shorebirds.org.nz
Phone | 09 232 2781
Mail | 283 East Coast Road RD3, Pokeno 2473
Who's funding us?
We had to raise around $22,000 to buy the 10 satellite tags. Most of that came from grants by funding organisations approached by our long-serving volunteer fundraiser Alister Harlow.
The Ron and Edna Greenwood Environmental Trust gave $5000 to get things going, another $5000 came from the Mazda Foundation and Birds New Zealand provided $4600. Several of our members offered donations without even being asked. John C Black and Jeanne Kleyn, who live in the USA, gave $5000.Other members have donated a total of $2600. There have also been offers of more help if we had a shortfall. Brigham Young University – Hawaii, which has a longstanding involvement in Pacific Golden Plover Research, and is sending over an expert team to help with the catching, has agreed to cover the satellite tracking costs and also offered a substantial contribution if there was a shortfall. The Shorebird Centre is hugely grateful for that support.